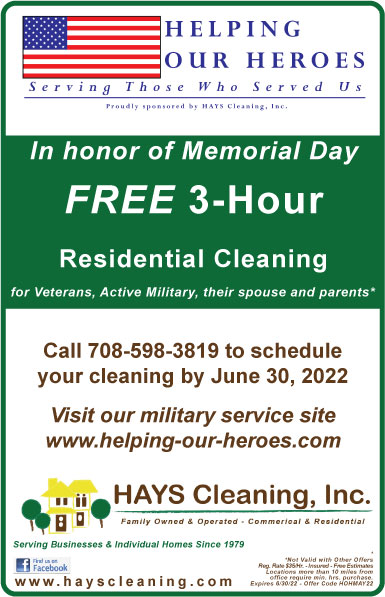 HAYS Cleaning celebrates Memorial Day with our Helping Our Heroes program. This is the 12th year that HAYS Cleaning shows appreciation for area veterans, active military and their families for their service by gifting them 3 FREE hours of residential housecleaning.
Program History
The program was launched by the owners of HAYS Cleaning, Mary and Art James, in 2010, as a way to honor local men and women who have served in the United States Military.
Schedule by June 30, 2022 to take advantage of this offer!
HAYS Cleaning will provide 3 free hours of cleaning services to local military veterans as well as to those in active service. Call 708-598-3819 or email mary@hayscleaning.com to schedule your appointment for services.